Introduction
Clarity is essential for effective project management, and kanban is one of the best tools to achieve this. Kanban boards are like visual cheat sheets: they lay out tasks, simplify workflows, and help teams see who's doing what. In short, they take the guesswork out of teamwork.
Microsoft Teams also plays a central role in product management for many businesses. Over the years, it has become the central hub for business communications. From discussing projects to sharing files and hosting video calls, Teams is where collaboration unfolds in real time.
Imagine bringing the clear visuals of kanban boards into the dynamic communication environment of Microsoft Teams. It would be a game changer. With these two tools combined, tasks could be discussed, distributed, and actioned all in one place.
A kanban app that integrates seamlessly with Microsoft Teams would create a workspace where team communication and task management go hand in hand, eliminating the need to jump between platforms.
Well even though Teams doesn't come with a built-in kanban board, it does support integration with various apps for Microsoft Teams that have kanban functionality, such as Virto Kanban Board, Trello, and Asana.
So which kanban board is best for Teams? And which Microsoft Teams kanban integrations truly shine? Keep reading to find out the answers to these questions and gain a clearer understanding of the top 10 agile project management tools for Teams in 2023.
Microsoft Teams and Its Kanban Integration Potential
At the heart of modern collaboration lies Microsoft Teams. More than just a hub for chats and calls, its true strength shines when you uncover its potential for third-party integrations. While Microsoft Teams doesn't have a native kanban board, the platform's flexibility means that various kanban apps, including free versions, seamlessly fit into the Teams environment. An example is Virto Kanban Board for Teams, which offers a free plan for teams of up to five members.
How does kanban board integrate with Microsoft Teams
One of the standout features of Teams is its tabs functionality. This feature also enables you to integrate third-party kanban boards with Teams.
Imagine being in a Teams channel, discussing the ins and outs of a project, and being able to quickly switch to a tab showcasing a kanban board to check a deadline or show the stages of a project. With Microsoft Teams kanban integrations, this dream setup becomes a reality. You can effortlessly add kanban boards as separate tabs in your channels so that every team member can view the project's status at any given moment.
The fusion of Microsoft Teams with the right kanban tool has the potential to elevate teamwork to new heights. It's not just about communication anymore; it's about merging talk with action and discussions with visual task management.
Discover our Microsoft Teams kanban guide for further information.
Is There a Kanban Board in Microsoft Teams?
In the quest to find the best kanban board for Microsoft Teams, many users stumble upon a built-in tool: Microsoft Planner (in Teams it is Tasks by Planner and To Do). While it's not a full-fledged kanban board, it certainly borrows from the kanban idea, offering a visual way to manage tasks and projects directly within Teams.
Source: Microsoft.com
It can be said that Microsoft Planner lays a foundation for task management in Teams. It allows you to create different buckets (columns) with cards, assign tasks to team members, set deadlines, and even add labels for categorization. Its integration with Teams means you don't need to log in to a separate app and constantly switch between them, creating a streamlined work experience.
However, while Microsoft Planner does offer a kanban-like functionality, it has its limitations:
Flexibility: It lacks the customization capabilities of dedicated kanban tools.
Drag-and-drop: It has limited functionality compared to more advanced kanban platforms. Some users have found this feature to be unstable on the desktop app for Mac.
Scalability: It can struggle with larger, more complex projects.
Visuals: While it offers basic board views, it lacks advanced visual customization options.
Integration: Though it's in Teams, it might not always gel seamlessly with other Microsoft 365 apps.
Advanced features: It lacks certain features like swimlanes, advanced reporting, or work-in-progress (WIP) limits, which are common in most kanban tools.
While Microsoft Planner is a great starting point, it might not be enough for seasoned project managers.
Exploring the Best Kanban Boards for Microsoft Teams
In the search for optimal kanban board solutions for Microsoft Teams, several apps come to mind, with the Virto Kanban Board app for Microsoft Teams, Trello, Asana, Jira, monday.com, ClickUp, Wrike, MeisterTask, Smartsheet, and Productboard leading the pack. In this section, we'll examine the key features and benefits of the top kanban boards.
Virto Kanban Board App for MS Teams
Virto Kanban Board for Teams supercharges Microsoft Teams for your project management. Its range of useful features make this tool a game-changer:
Teams integration: Add a custom kanban board as a tab in Teams, merging the SharePoint and Teams experience.
Easy data access: Pull data from existing SharePoint lists and libraries and showcase them in Teams.
Real-time notifications: Receive immediate or planned task updates in your Teams channels with the Alerts and Reminders tool that comes together with Virto Kanban Board.
Adaptable boards: Break down large tasks, use swimlanes for categorization, and enhance visuals with color-coded tags. You can also adjust the sizes of task cards for your desired look.
Efficient filtering: Use the advanced search and filtering functions to quickly pinpoint tasks or organize your board.
Comprehensive reporting: Generate status charts, assignee breakdowns, and other workflow elements. Export reports as CSV files or save the board as a PDF.
Advantages of integrating Virto Kanban Board with Teams for businesses:
Navigating the business realm requires smart tools that enhance workflows, foster quick collaboration, and keep data locked tight. When Virto Kanban shakes hands with Microsoft Teams, magic happens. Here's why this combo hits the sweet spot for businesses:
Unified workspace: Streamline workflows by centralizing operations within a single app—Microsoft Teams—reducing platform hopping.
Real-time collaboration and updates: Enhance productivity with simultaneous task updates and immediate notifications in one platform.
Customization and flexibility: Tailor boards to your specific business needs with Virto Kanban Board's customization features.
Integrated reporting: Generate, review, and export reports without leaving Teams, aiding in performance assessment.
Security and consistency: Maintain strict security controls by inheriting SharePoint permissions and ensure a uniform approach to task management.
With Virto, your kanban board travels with you. Whether you're working remotely or are just away from your desk, you can access it on any device. And the best part? A single license lets you harness Virto Kanban Board's power in Teams, use it effortlessly as a web app, or integrate seamlessly with SharePoint. Convenience meets efficiency, just like that.
Read Virto Kanban Board's reviews on G2.
Trello
A favorite for its user-friendly approach, Trello offers a visual experience that many find hard to beat. Let's look closer at its pros when used in Teams:
Unified viewing: Access and view your Trello boards, lists, and cards directly within Teams.
Dynamic task management: Create and move cards, set due dates, and even mark tasks as complete without leaving Teams.
In-channel boards: Pin your Trello board as a tab in a Teams channel for swift navigation, allowing everyone with board access to collaborate efficiently.
Search and share with ease: Using the Trello Messaging Extension, teams can quickly find cards by keywords and share them in conversations.
Smooth onboarding: The app comes with a quick start tour, ensuring everyone gets up to speed effortlessly.
By marrying Trello and Microsoft Teams, you're redefining collaborative efficiency. You get a board that not only organizes but also drives team engagement. Streamline tasks, automate routines, and keep the team spirit lively, all while staying within the Teams window.
Source: Trello.com
Asana
A task management giant, now woven into Microsoft Teams. Let's examine Asana's features:
Transform conversations into tasks: You can effortlessly turn Teams discussions into actionable Asana tasks, ensuring that every idea is captured and pursued.
All-in-one view: Access Asana tasks, projects, portfolios, and even status updates within Teams. If you need more details, you can unfurl Asana tasks in Teams for instant context.
Stay in the loop: With custom notification settings for each channel, get key updates on your private "My Tasks" and always be aware of task progress within your Teams channels.
Streamlined connection: Integrate Microsoft Teams with Asana seamlessly. It's available at no additional cost to Asana users who also have a Teams account.
Melding Asana with Teams transforms your workspace into an organizational powerhouse. You get a panoramic view of projects, the tools to dissect them, and the collaborative space of Teams to bring it all to life.
Source: Asana.com
Jira
Jira, predominantly a developer's choice, has capabilities that stretch beyond just coding. Let's break down its features:
Deep integration: Discuss issues, manage backlog, and keep the focus all within your Teams environment.
Bot interactions: You can not only create, assign, and edit issues using the bot but also track time and engage with the bot directly from your Teams channel.
Quick searches and actions: The messaging extension makes it easy to look up specific issues and share them in channels or conversations. Plus, create new issues directly from message texts or add comments to existing ones.
Project backlog accessibility: Add your project backlog as a tab in your channel, so everyone can easily see and work on issues without leaving Teams.
When you blend Jira with Teams, you're taking project management up a gear. It's where in-depth task analysis meets fluid communication, ensuring no detail is overlooked and every team member stays in the loop.
Source: https://www.nextup.ai/workflows/use-jira-boards-inside-microsoft-teams
monday.com
monday.com is more than just a task manager; it's a work operating system that powers teams to run projects and workflows with confidence. Here are some of its features:
Visual workspaces: Experience a clear and collaborative view of all your projects in one space.
Easy integration: Embed monday.com boards into Microsoft Teams, where you can easily create new boards or collaborate on existing ones.
Real-time notifications: Stay informed with updates directly from your boards and add new items via the monday bot.
Contextual conversations: Search and share from monday.com boards in your Microsoft Teams chats, linking your discussions to ongoing projects.
Personal productivity: Use your personal space tab to keep track of your weekly tasks and inbox.
Read monday.com's reviews on G2.
Source: support.monday.com
ClickUp
When ClickUp converges with Teams, it sets the stage for streamlined communication:
Link unfurling: Share a ClickUp task link in Teams, and it will automatically display essential task details, providing context instantly.
Real-time notifications: Stay updated on any comments, file attachments, status modifications, and assignee changes directly in your Teams channel.
Task attachment: Conveniently pull up and share a task in any Teams discussion, ensuring clarity on the topic at hand.
However, it is important to note that ClickUp's kanban board view does not currently integrate with Teams. ClickUp's Microsoft Teams integration is limited to communication and notifications.
Source: clickup.com
Wrike
Wrike fuses collaborative features with powerful project management, making teamwork effortless with the following features:
Integrated tabs: Embed your Wrike projects directly into Microsoft Teams channels. View and interact with them, updating status, assignees, due dates, and subtasks. You can also optimize planning with the Timeline View.
Messaging enhancement: Enrich conversations by adding Wrike task previews into your Teams chats. Quickly search and pull task details directly into a chat, giving context with details like title and assignee.
Personal touch: Access tasks meant just for you, keeping personal assignments separate from team ones. Conveniently view all your Wrike-integrated projects from various Teams channels in one unified space.
Stay updated: Never miss out on notifications. Be informed directly within Teams when new tasks are assigned or when someone mentions you in Wrike.
Source: wrike.com
MeisterTask
MeisterTask seamlessly combines fun with function, turning task management into a visually appealing experience:
Agile adaptability: Set up and adjust project boards for varied workflows such as software sprints and Kanban.
Comprehensive task features: Get everything, including due dates, attachments, tags, tracked time, and real-time communication, all within a task.
Dashboard delight: Enjoy a personal dashboard highlighting open tasks, notifications, and tracked time. Stay updated in an instant.
Automate and streamline: Automate recurring steps with "Section Actions," ensuring consistent work and enhanced collaboration.
Insights and reporting: With in-built time tracking and extensive reporting, track productivity, view project performance, and export varied task reports.
Read MeisterTask's reviews on G2.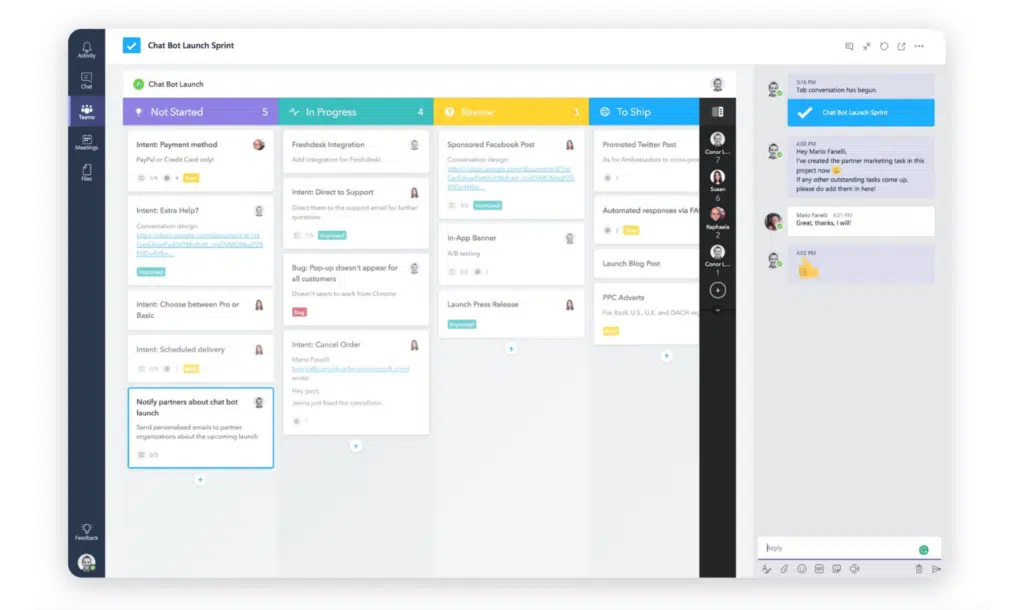 Source:meistertask.com
Smartsheet
Smartsheet offers a spreadsheet-like interface, making project management familiar and powerful. It comes with the following features:
Channel notifications: With automated Smartsheet notifications delivered straight to a Teams channel, everyone is aligned with real-time updates.
Direct message reminders: Teams users can receive Smartsheet reminders, notifications, update submissions, and approval requests as direct messages within Teams.
Smartsheet tabs in Teams: Deepen the integration by adding Smartsheet sheets, dashboards, and reports as tabs in Teams channels.
Read Smartsheet's reviews on G2.
Source: smartsheet.com
Productboard
Tailored for product managers, Productboard offers a platform to understand what users need, prioritize what to build, and rally everyone around the roadmap:.
User insights: Consolidate user feedback and understand what features or improvements are most desired.
Prioritization matrix: Evaluate and prioritize features based on user impact and business value.
Roadmap publishing: Share the product roadmap with stakeholders to keep everyone aligned.
Integration ecosystem: Connect with other tools to create a unified product management suite.
Read Productboard's reviews on G2.
Source: Teams Apps Store
Which Kanban Board is Best for Teams?
Selecting the best kanban board for Microsoft Teams can seem challenging, but fear not—we're here to guide you to the right decision.
The best kanban board should smoothly integrate with Teams, promote real-time collaboration, be customizable to your workflow, fit within your budget, and provide an intuitive user experience. With these considerations in mind, ask yourself the following questions when considering your product options:
Ease of integration: Does the tool seamlessly embed itself into Microsoft Teams? The less hassle, the better.
Real-time collaboration features: Does the tool allow team members to simultaneously update, comment, and track tasks?
Customizability: How much can you tweak the tool to fit your needs? Not every project is the same, so you want to ensure the tool you choose can flex to fit your needs.
Pricing and scalability: Does the tool fit your current budget? And can it scale as your business and team grow?
User experience and interface: Is it easy and intuitive to use? At the end of the day, if it's not user-friendly, even the best features become redundant.
Let's now compare the top six Microsoft Teams kanban integrations that we've selected from the list we reviewed earlier.
Kanban app and integrations comparison table for Microsoft Teams
| Feature/Criteria | Trello | Asana | Virto Kanban Board | Jira | monday.com | Wrike |
| --- | --- | --- | --- | --- | --- | --- |
| Integration Ease | ⭐⭐⭐⭐⭐ | ⭐⭐⭐⭐ | ⭐⭐⭐⭐⭐ | ⭐⭐⭐⭐ | ⭐⭐⭐⭐ | ⭐⭐⭐⭐ |
| Real-time Collaboration | Yes | Yes | Yes | Yes | Yes | Yes |
| Customizability | High | Medium | High | High | High | Medium |
| Pricing and Scalability | Free version for any number of users, but limited boards. From $5—standard plan per user per month, billed annually. | Free for 15 members. If more, from $10.99 per user per month, billed annually. | Free for five members. If more, from $2 per user per month if billed annually for 50 members (the more users, the cheaper). | Free for 10 members. If more, $7.75 per user per month if 10 users (the more users, the cheaper), billed annually. | Free for two members. If more, from $8 per user per month if billed annually. | Free for individual use. If more, from $9.80 per user per month if billed annually. |
| Integration with Microsoft Tools | Microsoft Teams, Viva Goals, Power Automate | Microsoft 365, Teams | SharePoint, Teams, Microsoft 365 | Microsoft Teams, Viva Goals | Microsoft 365, Teams | Microsoft Teams, Outlook, Excel, Powerpoint, and Word |
| Built-in Analytics | No | Yes | Yes | Yes | Yes | No |
| Max Team Size for Standard Plan | unlimited | unlimited | unlimited | 35,000 | unlimited | 25 |
| Special Features | Comprehensive reporting, in-channel boards, quick search, and sharing of cards in Teams. | Turn Teams chats to tasks, all-in-one view (tasks, projects, updates), custom notifications. | Real-time notifications, adaptable boards (swimlanes, color-coding, adjustable cards), various charts for data representation. | Discuss issues; manage backlog; create, assign, and engage using bot; quickly search, share, create issues. | View backlog and get clear view of all projects, get updates and add items via bot, link Teams chats to projects. | Add task previews in Teams chats, access personal tasks across projects, receive notifications of new tasks and mentions. |
| User Reviews | ⭐⭐⭐⭐⭐ | ⭐⭐⭐⭐ | ⭐⭐⭐⭐⭐ | ⭐⭐⭐⭐⭐ | ⭐⭐⭐⭐⭐ | ⭐⭐⭐⭐ |
How to Choose the Best Kanban Integration for Your Needs
So how do you ensure that your chosen kanban board integration truly harmonizes with Teams? Here are a few things to start with:
Be curious: Don't stop at the surface-level features of Microsoft Teams. Dive deep into its integration marketplace and you might find tools that perfectly complement your team's unique workflow.
Pilot and test: Before committing to a kanban integration, run a pilot. This allows your team to test its fit, ensuring that the tool aligns with your collaboration style and project management needs.
Feedback loop: Once you've integrated a kanban board, create a feedback mechanism for your team members. Their insights on usability can guide adjustments, making sure the integration improves your team's productivity.
Moreover, consider these critical factors:
Team size:

Small teams: Trello, with its intuitive design, serves smaller teams seamlessly.
Large teams: Jira and Virto Kanban Board for Microsoft Teams cater well to larger teams due to their advanced user permissions and versatile boards.
Complexity of projects:

Simpler projects: Trello and monday.com offer straightforward boards perfect for linear projects.
Complex projects: Asana, Jira, and Wrike excel at managing multi-faceted projects with intricate stages.
Budget constraints:

Economical: Trello and ClickUp provide solid functionality at a cost-effective price point.
Premium: Wrike and Jira come with a higher price tag but offer advanced features worth the investment.
Integration with other tools:

Broad integration: Asana and ClickUp can seamlessly mesh with a wide range of tools.
Microsoft tools specific: Virto Kanban Board for Microsoft Teams offers impeccable integration within the Microsoft ecosystem, including SharePoint.
Customization needs:

Moderate customization: Trello and Asana provide a good balance between preset structures and adaptability.
High customization: Jira, monday.com, and the Virto Kanban Board app for Microsoft Teams offer a wealth of customization options to mold the tool to your specific needs.
To sum up, the Virto Kanban Board app for Microsoft Teams is a noteworthy mention as it sits comfortably within the Microsoft environment, offers extensive customization, and aligns with varied team sizes. However, ensure that whichever kanban tool you choose resonates with your team's requirements. Remember, it's not about which tool is the most popular but which is the most appropriate for your needs.
Conclusion
Choosing the right kanban board is quite a strategic decision that can either streamline or bottleneck your work processes. A well-integrated kanban tool simplifies task delegation, tracks progress, and ensures that every team member is aligned with the project goals. It can also improve team morale, as clarity often reduces stress and creates a more positive work environment. Above all, remember that your team's unique needs should always be at the forefront of any tool or integration decision. Equip them with the best and watch them excel.
For those seeking a comprehensive solution tailored to the Microsoft ecosystem, you can trial Virto Kanban Board for Teams for free to see if it's the right tool for you and your team. Start your free trial and continue using it for free for a team of up to five.