Introduction
Managing a project is like piecing together a big story, step by step. This is where Gantt charts play their part—they lay out each chapter and present the entire narrative of a project from the first page to the last, giving us every detail we need.
The shift to digital collaboration means tools like these are in high demand, and platforms like Microsoft Teams are taking note. By integrating a Gantt chart app for Microsoft 365, you cut down on time spent swapping between apps to make project planning smoother.
While there are several ways to visualize a project, such as using kanban boards and overlaying calendar views, Gantt charts hold their own, especially for those complex, detail-heavy projects. With a Gantt chart, you can easily ensure that everything aligns just right.  
In this article, we'll explore the world of Microsoft Teams Gantt charts, diving into the best tools and integrations available in 2023 and shedding light on free options that can enhance your project planning. Let's embark on this Gantt journey! 
Does Microsoft Offer a Native Gantt Chart Tool?
When managing projects within Microsoft's ecosystem, users often seek clarity on the tools available. One frequently asked question is "does Microsoft have a Gantt chart tool?" Users often consider SharePoint and Microsoft Teams as ideal platforms for Gantt charts due to their seamless integration with the Microsoft 365 ecosystem, user-friendly collaboration features, robust security, and compatibility with various third-party tools. While Microsoft Teams doesn't have a Gantt chart tool by default, there are ways to add Gantt chart functionality to Microsoft Teams using Microsoft's own tools, such as Project for the web, or third-party integrations. Keep reading to find out more about the options available.
Microsoft Planner in Teams
Is there a project planner in Teams? Of course. You may have heard that Microsoft Teams offers a free project planner called Planner. Think of this tool as the outline for your project's grand narrative. It allows you to create, assign, and track tasks. With Planner's visual boards, tasks appear as cards that you can organize into different categories or buckets. You can fill each card with detailed descriptions, checklists, labels, and end dates.
But here's the catch: while Planner beautifully lays out tasks in a kanban-like fashion, it doesn't natively offer a Gantt chart view. It offers a good starting point, but for a more detailed visual overview of all the steps of a project, you might need to look further.
Hint: The Planner app can be found in the Micorosft Teams app store as "Tasks by Planner and To Do." 
Source: https://support.microsoft.com/en-gb/office/use-the-tasks-app-in-teams-e32639f3-2e07-4b62-9a8c-fd706c12c070
A Microsoft Planner addition: Planner Gantt 
If a kanban-style view isn't enough for you and you want to know how to create a Gantt chart in Microsoft Teams while using Planner, the answer lies in third-party apps.
Planner Gantt is a third-party app that provides a Gantt chart experience right within Planner and Teams. It offers a panoramic Gantt chart view of all your Planner tasks. You can drag, drop, and reschedule tasks to optimize your project timeline. It's a convenient tool for plotting the best route to completion and spotting pivotal tasks that could impact the project's outcome. The price tag for this enhanced view is $24 per user per year.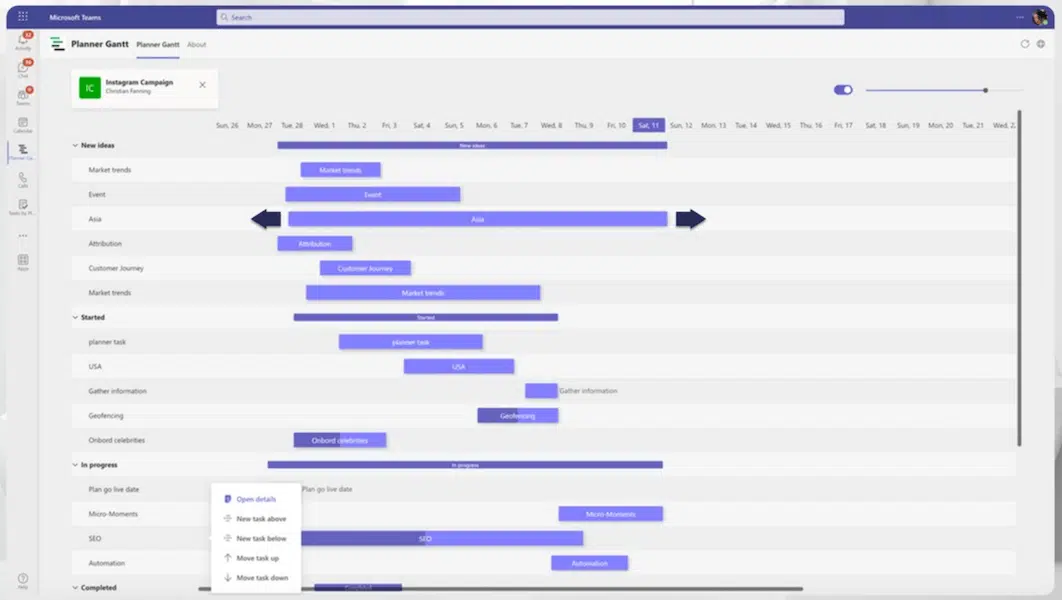 Source: Microsoft Teams Apps  
Planner in Microsoft Teams offers basic task management, but for advanced Gantt chart features in Teams, users can choose from a range of options. Next, we'll explore the top Teams Gantt charts.
Comparing the Best Gantt Chart Apps and Integrations for Microsoft Teams
In this section, we take a close look at various Gantt chart tools, both free options and ones with a price tag. We'll break down their features, scalability, and limitations as well as looking at how they fit into Microsoft Teams. Are you ready to find your best Gantt chart app for MS Teams? Let's go!
Project for the web
Microsoft's Project app offers a modern approach to project management, blending traditional aspects with newer functionalities. For those acquainted with Planner, shifting to Project is a breeze. This tool ensures every phase of a project unfolds seamlessly.
Integration with Teams: 
Project integrates excellently with Teams, ensuring smooth collaboration around complex project timelines. The only downside is that Project for the web isn't currently accessible on mobile devices. 
Features: 
Drag-and-drop scheduling: Easily rearrange and adjust task timelines.
Grid view: Organize tasks in a structured, tabular format.
Board view: Visualize tasks in a card/board format for easy status tracking.
Gantt chart visualization: Manage and observe project timelines and dependencies visually.
Price: 
Project Plan 1: $10 per user per month
Project Plan 3: $30 per user per month
Project Plan 5: $55 per user per month
(These prices don't include taxes.)
Gantt view is included in all project plans. Here you can read more about the differences between them: Compare project management solutions and costs. 
Source: https://news.microsoft.com/es-xl/el-nuevo-microsoft-project-comienza-a-distribuirse-a-clientes-de-todo-el-mundo/  
Smartsheet
Smartsheet stands out as a prominent platform for work management and automation. Its robust Microsoft Teams Gantt chart capabilities are just the tip of the iceberg when it comes to its wide-ranging features. 
Integration with Teams: 
Thanks to its official integration with Microsoft Teams, users can effortlessly collaborate and communicate within the platform. 
Features: 
Hierarchical task linking: Interconnect tasks for structured progress.
Dependencies: Establish and visualize relationships between different tasks.
Milestone tracking: Mark and manage significant points within the project timeline.
Collaborative Gantt chart views: Ensure synchronized team understanding and planning.
Price: 
They have a free version, but it does not support integration with Teams. For Teams integration, you can choose the Pro plan, which costs $7 per user per month for up to 10 editors, or the Business plan, which is $25 per user per month for unlimited editors (both billed annually).  
Source: https://www.smartsheet.com/s/gantt-template-gallery  
Trello with Gantt extensions (e.g., BigPicture or Placker)
Trello is renowned for its user-friendly kanban boards, but with a little help from Power-Ups like BigPicture or Dashboards (by Placker), you can extend its capabilities to showcase Gantt charts in Teams. 
Power-Ups are add-ons or plugins that extend the functionality of Trello boards, lists, and cards. They provide additional features and integrations with other tools and apps to help users get more out of Trello. 
Integration with Teams: 
When it comes to Microsoft Teams, Trello doesn't lag behind. There's a direct integration available, allowing users to bring their Trello boards (including those with Teams Gantt extensions) into Teams for seamless collaboration. 
Features of  
Trello + BigPicture: 
Easily rearrange tasks with drag and drop.
Opt for manual or automated task management.
Develop an advanced Work Breakdown Structure.
Link tasks with dependency connections.
Customize views and add Artificial tasks.
Sort and categorize your cards.
Features of Trello + Dashboard by Placker: 
Real-time reporting for one or several Trello boards.
Quick access to detailed reports with one-click functionality.
Time-efficient report creation, replacing hours of work with minutes.
Visual metrics to monitor team progress and identify needed adjustments.
Customizable dashboards with various layout, widget, and measurement unit options.
Multiple chart formats to effectively showcase key performance indicators.
Data integration from single or multiple boards, with Microsoft Planner sync availability.
Price: 
Trello offers a free plan with a limit of 10 boards per team, plus each Power-Up has its price. Dashboard by Placker offers a 15-day free demo, then you can choose the basic plan, which includes Gantt charts and costs $14.98 per month for two members.  
BigPicture is currently free, but that may change. 
Trello + BigPicture. Source: https://trello.com/power-ups/5b30f2417825075d3e126cbb/bigpicture  
Trello + Dashboards (by Placker). Source: https://placker.com/trellso-reporting.html  
Wrike
Wrike stands out as a comprehensive project management solution that furnishes Teams with Gantt chart capabilities right from the get-go.
Integration with Teams:  
Using Wrike for Teams, you can seamlessly blend task and project management within your collaboration platforms. Moreover, it empowers you to transform conversations directly into organized tasks. From task creation to in-depth project management, you can control everything without leaving Microsoft Teams.
Features: 
Easily create and manage projects and tasks directly within Teams.
Access task lists, subtasks, and detailed task insights.
See your team's changes to tasks in real time with the Live Editor.
Communicate seamlessly by sending and receiving Wrike comments in Microsoft Teams.
Use the Teams Gantt chart view to visualize your project schedule effectively.
Receive actionable task notifications and see task previews in Microsoft Teams chats.
Enjoy a personalized experience where you can work with your own Wrike tasks.
Easily authenticate through Microsoft 365, Google, or other single sign-on options.
Pricing:  
Wrike is free for individual use. The Team plan for 2–25 users costs $9.80 per user per month, while the Business plan for 5–200 users costs $24.80 per user per month. For Enterprise or Pinnacle plans—for large teams or teams with complex work needs—contact Wrike for custom pricing. 
Source: https://www.wrike.com/apps/chat-messaging/microsoft-teams/  
Asana with Instagantt
Asana, renowned for its structured yet flexible task management, couples perfectly with Instagantt to improve its capabilities by providing a Microsoft Teams Gantt chart solution that's both comprehensive and intuitive.
Integration with Teams:  
Asana can be integrated into Microsoft Teams, and with the Gantt features, it offers a well-rounded experience.
Features: 
Meticulous dependency tracking: Manage task relationships with precision, ensuring that each step is logically connected and team members understand their sequential impacts.
Interactive Gantt views: With Instagantt, transform Asana tasks into interactive Gantt charts, offering drag-and-drop adjustments and visualizing project progress. 
Milestone mapping: Plot significant project events and milestones on the Teams Gantt chart, providing teams with visual markers and goals throughout the project journey.
Pricing:  
Asana has a free basic plan for individuals or small teams of up to 15, with premium or business plans available from $10.99 to $24.99 per user per month if billed annually.
Instagantt costs $7 per month for the individual plan and $5 per user per month if you opt for a Team plan. There's a 22% discount if you pay annually. 
Source: https://asana.com/apps/instagantt  
Aha!
Aha! is well known for being a full-featured road mapping tool that smoothly brings together in-depth product management and Gantt chart capabilities. From planning releases to visualizing the product's evolution, it gives product managers everything they need to guide a product through its entire life cycle with confidence.
Integration with Teams:  
Integrating Aha! with Microsoft Teams involves creating a webhook in Microsoft Teams to broadcast updates from Aha! to any designated channel within Teams. It is essential to note that while updates and notifications from Aha! can be channeled into Microsoft Teams, integrating Gantt charts directly into the platform is not currently possible.
Features: 
Thorough release planning: Navigate each product release with strategic mapping that aligns with broader product objectives.
Vibrant timeline views: Engage with the product development journey through detailed and visually appealing timeline views.
In-depth dependency tracking: Manage dependencies with strategic oversight, ensuring each step of the product development process is ordered and logical.
Milestone definition: Incorporate key milestones into your Gantt chart for a visual guide to the product development lifecycle.
Pricing:  
Aha! Roadmaps starts at $59 per user per month. 
Source: https://www.aha.io/support/roadmaps/integrations/microsoft-teams/microsoft-teams-integration  
GanttPRO
GanttPRO makes managing projects easy with its user-friendly and straightforward Gantt chart tool. Even if you're a new user, you'll get the hang of it in just 15 minutes. It's a favorite for many teams who want to track and work on their projects together while keeping every goal visible and achievable.
Integration with Teams:  
While the Gantt charts cannot be added to Microsoft Teams, you won't have to worry about missing anything while working in Teams. With GanttPRO's Teams integration, you'll be notified of task updates, new comments, and status changes right inside Microsoft Teams.
Features: 
Organize tasks clearly: Build a clean, clear structure with task hierarchies.
Smooth task flow: Set up dependencies to keep tasks moving logically.
Manage resources wisely: Keep track of your resources and avoid overloading anyone.
Team editing: Let the team tweak, adjust, and collaborate on project timelines together.
Pricing:  
The basic plan, which includes Gantt view and Microsoft Teams integration, costs $9.99 per month for an individual and $7.99 per user per month if used for a team. 
Source: https://ganttpro.com
Comparison table: Gantt chart tools for Microsoft Teams
After exploring several Gantt chart tools for Microsoft Teams, let's simplify your choice with a handy comparison table. This brief summary will highlight pricing, key features, Microsoft Teams integration, and user ratings for each tool, giving you a quick reference to help you make the best choice.
| Tool  | Pricing  | Key Features  | Ease of Integration with MS Teams  | User Rating  |
| --- | --- | --- | --- | --- |
| Project for the web | Included in Project subscriptions, starting from $10.00 per user per month for Project Plan 1. | Drag-and-drop scheduling, grid view, board view, Gantt chart visualization | Deeply integrated, not available on mobile | [N/A] |
| Smartsheet | Starts from $7 per user per month. A free plan exists, but it doesn't offer MS Teams integration. | Hierarchical task linking, dependencies, milestone tracking, collaborative Gantt views | Official integration available | 4.5 |
| Trello + Extensions | Free plan with up to 10 boards per team. Power-Ups both free and paid. | Varies between Power-Ups (BigPicture, Placker, etc.) | Direct integration available, some added complexity with Power-Ups | Trello: 4.5, BigPicture: 4.1, Placker: 3.8 |
| Wrike | Free plan available for individual use. Team plan from $9.80 per user per month. | Native Gantt capabilities, real-time collaborative views, dependency linking | Seamless integration via Wrike for Teams | 4.3 |
| Asana with Instagantt | Instagantt costs $5 per user per month for the team plan or $7 per month for an individual. Asana is free for teams <15 people, then $10.99 per user/month for premium plan and $24.00 for business plan. | Dependency tracking, interactive Gantt views, milestone mapping | Integration available, with well-rounded Gantt experience | Instagantt: 4.3 |
| Aha! | From $59 per user per month. | Release planning, vibrant timeline views, dependency tracking, milestone definition | Updates into Teams via webhook, no Gantt view in Teams | 4.7 |
| GanttPRO | From $7.99 per user per month for teams. | Task hierarchies, dependencies, resource management, collaborative editing | Task updates and notifications in Teams, no direct Gantt integration | 4.8 |
Free Gantt Chart Options for Microsoft Teams
Selecting an effective, free Gantt chart for Microsoft Teams may elevate your project management strategy without impacting your budget. Let's see which you can use for free with or without any limitations:
Trello offers a freemium model, allowing you to use up to 10 boards per team, and you can use the BigPicture Power-Up for potentially free Gantt chart functionality.  
Wrike is also a viable option with its free plan for individual use, providing an array of Gantt chart features without the initial financial commitment.  
Smartsheet does use a freemium model; however, it's worth noting that integration with Microsoft Teams is not available in the free version.  
Project for the web is included in Microsoft's Project Plan subscriptions, so you can access it for free if your company already subscribes to one of these plans. 
Exploring free Gantt chart options for Microsoft Teams is a smart first step. This way, you can see if this type of project planning suits your team without spending a dime. It's a risk-free way to try organized, visual project management.
Conclusion
It can be a bit confusing navigating the sea of Gantt chart options for Microsoft Teams. But the good news is that the variety of options available makes it more likely you'll find one that's right for you. Whether your team is big, small, or somewhere in-between, there's a tool that truly suits you. You'll want something that's user-friendly for your team and powerful enough to adapt to your project's evolving demands.
And while you're searching for the best Gantt chart app for MS Teams, we're busy crafting something special—Virto Gantt Chart for Microsoft Teams. But you don't have to wait to start using Gantt charts or exploring our other solutions. Check out our Virto Gannt Chart for Office 365 and more stellar apps for Microsoft Teams tailored for project management. See how these apps can slip smoothly into your project management toolkit, simplifying those complex processes.
After a 30-day free trial, you can continue using Virto apps for free for a team of five. Let's optimize project management together!