How to Set Up SharePoint Alerts
SharePoint alerts can be configured to send an email or SMS when any documents or items on a SharePoint site have been changed.
There are many use cases and business scenarios where you can use SharePoint alerts. You can configure instant notifications for changes and updates made to an item, list or library to improve the collaboration of a team working on a specific project. SharePoint alerts can be created to track newly added items or accidentally deleted files in a library. You have a variety of options to apply SharePoint alerts in your business processes, but it is a question of limited flexibility of default SharePoint alert triggers that may not always meet specific requirements.
In this article, we will describe how to set up alerts in SharePoint, overview the case how to create SharePoint alerts for other users, and highlight the most wanted functionality that default SharePoint alerts are not capable, but Virto SharePoint Alerts add-in can do.
How to set up alerts in SharePoint
Open a SharePoint list or library where you want to add an alert. Then click "Alert Me" on ribbon.

The way to set up alerts in SharePoint is similar in both SharePoint Online and On-Premise. The only difference is the additional ability in SharePoint Online to create a SharePoint alert for an item by clicking dots next to this item. It is much faster to select this option from the dropdown then searching it on ribbon.

Note: in order to use "Alert me" feature, you must be a SharePoint site owner or have permission to manage SharePoint alerts for the site or list.Once you've established a particular library, list or item, which changes you will track, you have to configure the SharePoint alert itself.

In this form, you can change the alert name. You can delete your name from recipients list and add other users' names to create SharePoint alerts for other users.
Alerts delivery method (SMS, email) should be configured by SharePoint administrator. Usually, SMS delivery option is grayed out and email delivery is the default method.
In "Change Type" and "Send Alerts For These Changes" blocks you can specify the type of changes made to a item/list/library that should trigger SharePoint alerts. For example, I`ve selected the options to track any changes made by other users to my documents. Literally, don`t touch my stuff, I`m watching you!

And the last option allows you to define SharePoint alerts sending frequency. I`ll receive a daily report at 5 PM in the Daily Summary form.

Save the alert and check your email. You will get a system confirmation that you have successfully created a SharePoint alert!
A SharePoint email alert that you receive immediately or as a summary alert in our example, contains links to all files that were changed according to predefined triggers.
You can also modify your SharePoint alerts by clicking "Manage my alerts" on ribbon. But you can't truly manage SharePoint alerts from this view, you are able to delete them or add new SharePoint alerts.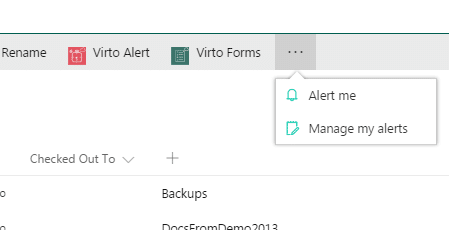 If you want to delete SharePoint alerts created by other users to avoid spam or because of alerts irrelevance, you have to browse to "User alerts" under Site Administration on Site Settings page and delete all unwanted alerts.
How to go beyond limits of default SharePoint alerts
As you can see, SharePoint alerts can be added fast and simple. But the simplicity concerns also the abilities to create really useful SharePoint alerts with fine customization.
The limitations of default SharePoint alerts system don't allow user to send out alerts on certain dates or create reminders about upcoming dates/events and for pending/overdue items.The conditions system is restricted too. You can't send SharePoint alerts to follow specific changes of a particular field values.
You can`t create SharePoint alerts for other users outside the SharePoint and add external email to your SharePoint alerts recipients list.
And it is impossible to extend SharePoint alerts message with additional text let alone pictures, links and text formatting.
Virto SharePoint Alerts add-in can do all of it. Including pictures and text formatting features for your email that can be also used as a newsletter.
Virto SharePoint Alerts vs. out-of-the-box SharePoint Alerts
| | | |
| --- | --- | --- |
| Feature | OOTB Alerts | Virto Alerts |
| Send reminders (alerts on certain dates) | | 😊 |
| Follow specific changes of field values. | 😒 | |
| Add external emails to recipients list | | 😊 |
| Send SharePoint alerts to users from a chosen list field | | |
| Custom alert's email message | | |
| Support for a recurrent events schedule | | |
| Send SharePoint alerts with individual schedule for each list item | | |
| Flexible custom conditions and rules to send alert | | |
| A table view for summary alerts | | |
One of the most wanted features is the SharePoint Alerts schedule customization. SharePoint Alerts add-in allows you to send email alert according to a custom schedule, including recurrent scheme and individual scheme for all list items. You can learn more about the SharePoint Alerts schedule feature on our site.
The conditions to trigger a SharePoint alert are also extended by Virto SharePoint Alerts. You can use a wide range of custom conditions and design precised rules to send an alert.

The powerful Virto SharePoint Alerts for SharePoint Online allows users to send emails to external users and users from a chosen list field. For example, you can select "Modified by" field to define the recipients and send alerts to users who are assigned to work with this task.

Among other features is the ability to display lookup fields in alert, merge summary SharePoint alerts in a table, and ability to send SharePoint Reminders. More info about SharePoint reminders can be found in the next article.
And you can add images, links and apply text formatting to your SharePoint alerts. In this article, I have described how to create a SharePoint newsletter with Virto SharePoint Alerts add-in. You can also set up a newsletter, using a recurring schedule to send email on a particular day.
You can download the fully functional 3-days trial and try all features of Virto SharePoint Alerts add-in in your SharePoint Online.